VNA is awaiting approval from the U.S. government to launch regular direct flights to the country to serve repatriation needs of the Vietnamese community.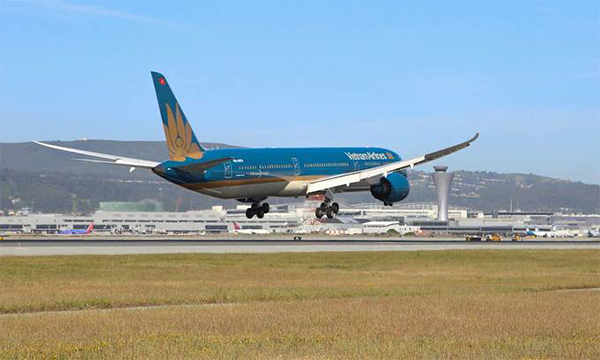 A VNA aircraft lands at San Francisco International Airport in the U.S., May 8, 2020. (Photo: San Francisco International Airport).
A large number of Vietnamese citizens living in the U.S. wish to return home, but the carrier has already operated all repatriation flights permitted by the U.S. authorities.
From May to August last year, the carrier has carried out a total 12 repatriation flights as permitted by American aviation authorities to bring Vietnamese citizens home amid the complicated developments of the pandemic.
The Board of Directors of  VNA has just approved a plan to launch regular direct flights to the U.S., saying this is the appropriate time to do it using the wide-bodied Boeing Dreamliner. They expect that this move will help increase revenue and minimize financial damage inflicted by the pandemic.
As soon as the carrier receives approval from the U.S. government, it will operate regular flights to repatriate Vietnamese citizens as well as carry foreign experts and diplomats wishing to enter Vietnam for work.
Depending on the recovery of the aviation market and when the Covid-19 pandemic is contained, the airline expects to operate direct flights between Vietnam and the U.S. from 2022 onwards.
The U.S. Federal Aviation Administration issued a Category 1 rating to the Civil Aviation Authority of Vietnam under its International Aviation Safety Assessment program in 2019, meaning it met safety standards to operate flights to the U.S.
VNA also got the green light to operate direct flights from Hanoi and Ho Chi Minh City to several American destinations in September 2019. No such a flight under the permit has been scheduled to date.
There are currently no non-stop routes between the two countries, and passengers have to transit through East Asia, the journey taking between 18-21 hours. A direct flight would bring the travel time down to 14-16 hours.
VNA reported a loss of over VND11.1 trillion ($483 million) last year after the Covid-19 pandemic grounded all its international flights.
Cre: VnExpress
Nguyen Xuan Nghia – COMM