All flights carrying Covid-19 vaccines to and through Vietnam will receive priority landing rights towards ensuring product quality, authorities said Monday.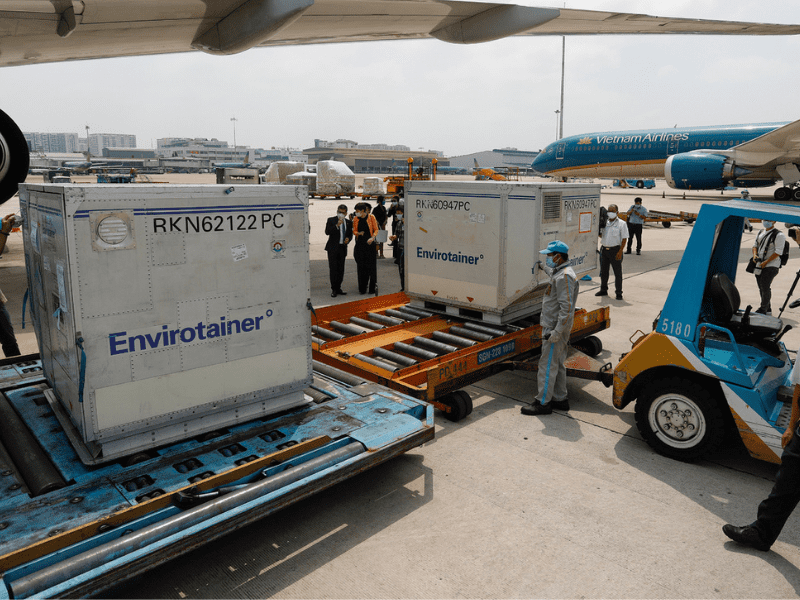 The Civil Aviation Authority of Vietnam (CAAV) said airlines operating flights with the vaccines should clearly indicate what a flight is carrying and notify the air traffic authority for priority landing.
The CAAV also requested the Airports Corporation of Vietnam (ACV), which operates 21 airports in the country, to arrange infrastructure at the airport so that containers with vaccines do not have to wait undergo long procedures, which can affect the product's quality.
Experts have said that the transportation of Covid-19 vaccines must be as quick and precise as possible so that their quality remains unaffected by exterior conditions, especially heat.
Most vaccines, including the one produced by British-Swedish firm AstraZeneca, require storage at 2-8 degrees Celsius, but some, like those produced by Pfizer-BioNTech and Moderna using the mRNA technique, need to be stored and transported at temperatures lower than minus 80 degrees Celsius to minus 20 degrees Celsius.
In the past week, flag carrier Vietnam Airlines has carried out several free flights from HCMC to Hanoi, Nha Trang in central Vietnam and Buon Ma Thuot in the Central Highlands to facilitate distribution of almost 819,999 doses of the AstraZeneca vaccine.
Vietnam began its Covid-19 vaccination program on March 8 using the AstraZeneca vaccine that was procured through commercial contracts and via the Covax facility.
So far, over 1.2 million people of the nation's 96-million population have been vaccinated, mainly frontline workers in the Covid-19 fight, including medics at local hospitals.
Copy of: https://e.vnexpress.net/