Check out these hacks, tips, and tricks from cabin crew that'll make flying the friendly skies much more friendlier.
Flight crewmembers do so much more than pass out snacks and beverages. They are not glorified waitstaff nor are they servants. They're highly skilled in first aid, conflict resolution, identifying possible human trafficking, emergency management, and much more. They undergo rigorous training, including the completion of annual and bi-annual exams to maintain their flying license.
Their sole responsibility is to make sure that each passenger arrives at their destination safely; and in a dire situation, they are the ones best equipped to guide and support you. So, don't be afraid to say hello, offer a kind smile (or "smize" while wearing a protective mask), or even offer the crew something to brighten up their day (and make your flight a friendlier one.)
With the return of air travel at an all-time high, we tapped these mile-high heroes for trade-secret tips and tricks. Crew members from Delta, Etihad, Norwegian, and Virgin Airlines gave us the scoop on what will help you board faster, fly smarter, and make your flying experience as stress-free as possible.
Heads up: The Overhead Bins Are Probably Full
Ever wonder why crewmembers aren't jumping to place your heavy luggage into the overhead bin or seem far too eager to get everyone in their assigned seats? That's because they are not compensated during the boarding process; therefore, the time clock starts running only once the doors are locked. That means avoiding heavy lifting pre-takeoff since if there's a mishap, crewmembers are ineligible for worker's compensation. If you're struggling with your bag, you may have to rely on a fellow passenger to assist you, so do your best to carry what you can lift above your head.
Drop Your Baggage When It Comes to Crewmembers
Have you ever cringed as you watched someone struggle to cram their carry-on into the overhead bin like they're playing a live-action game of Tetris? It could be the position of the bag, or it could be that the bin is full. If there is a little space, try placing the bag (and/or shift the other bags) to lay lengthwise instead of sideways for a better fit.
Another way to keep the boarding process moving is to look for bins that are already open and place your item(s) there–but as close as possible to your assigned seat. For example, if you've been assigned seat 23F but you place your bag in the bin above 10E, you could risk delaying the flight if the person assigned to 10E boards later and is struggling to locate a space to store their belongings. Once deboarding commences, 10E will then have to push their way further to the back to grab their bags from another section, and potentially delaying your debarking.
Download the Seats Alert App Before Your Flight
Using the Seat Alerts app before your flight will show how the seat map looks in the airline's system. How it works: Airlines regularly block out seats or even entire rows that are shown as "unavailable" to passengers during online check-in. Those seats are released at the last minute or never released as long as the flight isn't full. Why does this happen? The purpose is to accommodate families or special circumstances that unexpectedly arise enabling the crew to move passengers around with greater ease.
BYOW – Bring Your Own Water
Airplanes can be very dehydrating due to changes in altitude, temperature, and airflow of the cabin. Be mindful that the water quality on your flight will be poor unless you have bottled water, which includes the hot water used when serving coffee and tea. On the off chance that an airline doesn't offer free water or they run out of water bottles, you can ensure that you stay hydrated by carrying a water bottle. There are a few ways you can do this: You can carry an empty bottle, travel cup or mug, flask, or even something collapsible and fill it up at a fountain after going through security. If you don't feel like carrying your own around, you can always purchase water at one of the airport shops.
Since you'll be staying extra hydrated during your flight, you can take the opportunity to stretch your legs on your way to the restroom. Getting up every once in a while, especially during a long-haul flight, will also encourage blood circulation. You can also consider wearing compression socks and stretching your legs while seated, but you should seek the advice of a physician in these instances, especially if you're at risk for blood clots. If you hate feeling disruptive or squeezing past people in tight spaces, booking an aisle seat enables you to be a bit more mobile with ease. In contrast, if you're someone who doesn't like being disturbed, you should opt for a window seat and use the window as a headrest.
Give Cabin Crew a Heads up
Most airlines ask you to notify them of any special circumstances while you're purchasing your ticket. If you or someone else requires special assistance, please do your best to make sure the airline and staff know so they can better accommodate you. This includes but is not limited to limited mobility, phobias, and unaccompanied minors. Can only sit next to the same sex, or do you prefer to sit next to someone you know? A lot of miscommunication can be avoided if you do your due diligence to pre-select your seats. Flight crew members may permit the changing of seats after takeoff and at their discretion.
Have a Happy (In-Flight) Meal
Are you still feeling hungry or thirsty after the beverages, snacks, and meals have been served? You can ask for more! There may be a surplus, especially if a few passengers decline to take anything. Just be patient and polite, and an attendant will do the best they can to accommodate you. And a note for Diet Coke lovers: The popular soda is an absolute pain to pour because you have to wait for the fizzle to die down before you can continue to pour, which can slow the service down. So if you see an attendant pouring a fizzy drink and then continuing to serve before they come back to it, that's most likely why. Your sense of taste is also duller while flying, making sweet and salty foods or drinks seem blander. Chefs do consider this while preparing in-flight recipes (but it can still be a hit or miss.)
A Small Gesture Can Go a Long Way
Customer-facing jobs are rewarding but they can also be draining. Your patience, compliance, and kindness will mean a lot to airport and flight staff. If you're feeling generous, you can always offer a package of chocolates, mini souvenirs, or something thoughtful to gate attendants and flight crew members to get them through their day. Although the gesture may not get you an upgrade, it could score you some bonus perks during your flight, like extra snacks, beverages, or even a slightly better seat if one is free. And as always, be sure to ask politely for anything you need.
Bring Sanitizing Items for a Deeper Clean
The cleaning crews have a limited amount of time to work between de-boarding and the commencement of boarding for the next set of passengers so they're bound to miss a few spots. Put your mind at ease by wiping down your seat, trays, and even the window area every chance you get. You can also make it easier on the flight crew and your fellow passengers by cleaning up after yourself. If you need extra wipes or napkins, the crew will be more than happy to provide them. Once you're done, simply pack up your discarded items and ask a crew member to throw them out for you. Doing so will allow the flight and cleaning crews to sweep through the plane faster and help keep the next flight on schedule.
Book Flights Earlier in the Day Whenever Possible
You'll have a better chance of being rolled over to another flight on the same day should there be delays or cancellations if you've booked yourself on a flight earlier in the day. If you miss the last or the second to last flight then your chances are slim to none. Night flights can be great for long-haul trips because you can sleep during your flight and get to your destination refreshed and ready to go. Plus, it's one less night you'll have to pay for a hotel room.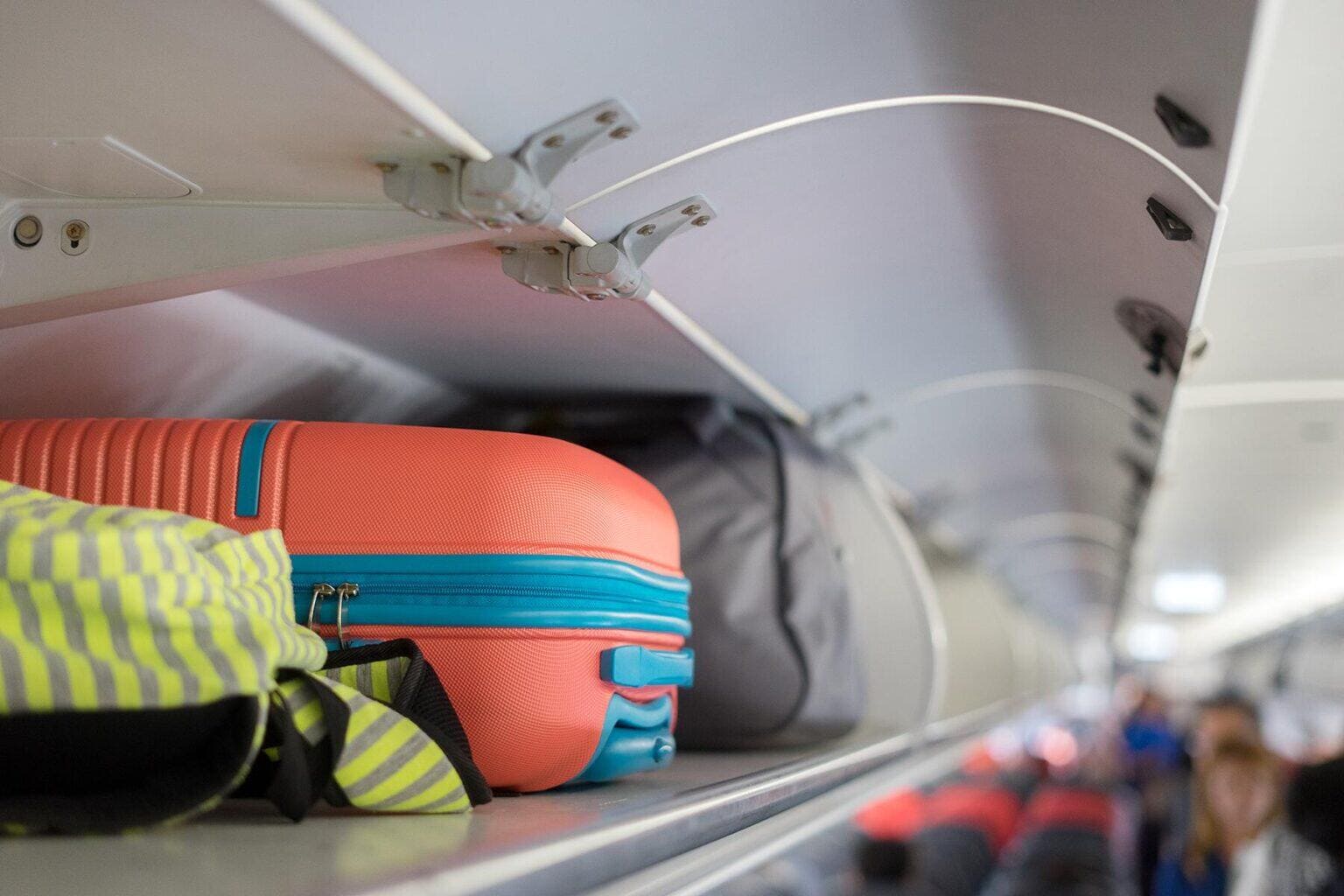 Be mindful that European-sized carry-ons are slightly smaller than the standard ones made for US airliners. If you're using an American standard-issued bag, try not to overpack it. An expanded case may not be able to fit in the overhead bins in some airliners and you may be asked to check your bag. If you're using luggage with soft fabric, try using a J hook to evenly distribute weight by attaching your smaller bag to the larger one. Create a checklist of items that should go in your carry on (important documents, medication, extra masks, a mini refresher kit, spare underwear, sanitizing supplies, snacks, etc.) vs. your checked luggage, (bulkier clothing, footwear, food & liquids in large containers or packages, etc.). Doing so will help you get through security with ease and have you looking like a travel pro.
Experiment With the "Personal Item" Size
Consider using an extra-large purse, large backpack, hiking pack, small duffle bag, garment bag, baby bag, briefcase, laptop bag, etc., as an alternative to a conventional suitcase. Your bag needs to fit completely into the measuring bin. If you don't have a luggage scale on hand, a trick for estimating the weight of your bag is to hold your luggage while you are standing on a scale then subtract your weight from the total. Think you'll bring some extra items back with you? You can always stuff another smaller bag inside.
Source: Fodor's Travel News