Delta Air Lines is the first major US carrier to introduce contact tracing for passengers arriving from overseas.
The Atlanta-based airline says on 3 December that it is the first to partner with the US Centers for Disease Control and Prevention (CDC) to assist in warning customers if they have been in proximity with anyone who has been infected while on-board one of their aircraft.
Beginning on 15 December Delta will ask customers travelling into the US from an international location to voluntarily provide their name, physical address, email address and two contact phone numbers in order to aid contact tracing and public health follow-up efforts.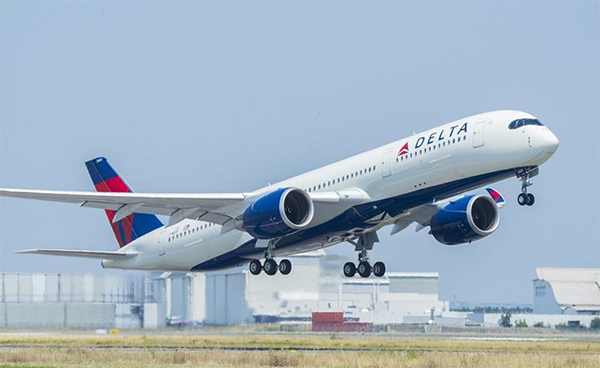 Delta to introduce contact tracing for customers. (Photo: Delta Air Lines)
"Contact tracing adds one more important layer to our efforts to ensure safety throughout travel," says Delta's chief customer experience officer Bill Lentsch. "We want customers to feel safe when they return to travel, and this voluntary programme is another way we can provide additional reassurance to customers and employees alike."
Any Delta passenger arriving back into the US can participate in the programme, the airline says.
Last week, the airline launched a pre-departure testing partnership with Rome International airport and its home airport Hartsfield-Jackson Atlanta International, to allow customers to bypass the mandatory 14-day quarantine when they arrive in Italy. That programme begins on 19 December. As part of this pilot with Italy, contact-tracing information collection is mandatory for all customers flying back to the US.
Numerous other airlines with international routes including United Airlines and Hawaiian Airlines have begun exploratory testing programmes to ease travel between jurisdictions with sometimes vastly different covid-driven restrictions.
Aviation trade groups, airlines and industry analysts agree that the patchwork of requirements and in some cases draconian restrictions on movement is hampering the industry's recovery as the coronavirus pandemic moves into its eleventh month.
Airlines have repeatedly said that they do not believe the industry will rebound until a vaccine is widely available and internationally accepted.
In a note to employees on 3 December, Delta's chief executive underlines this expectation.
"While it will take months for a vaccine to be broadly distributed, it's a clear sign of light at the end of the tunnel," he says. "Widespread vaccinations among our customers and our employees will be essential to Delta's sustained recovery and the start of our rebound."
Cre: Flight Global
Nguyen Xuan Nghia – COMM