I thought to myself "why not fly"? I understand that the decision to give employees a period of unpaid respite is a difficult decision for Vietnam Airlines, but a necessary short-term decision for the long-term benefits. I thought and realized that for me, flying without pay is much better than being on the ground without pay.
Hello Steven! Would you please give us a brief introduction about yourself?
Hello! My name is Stevenson Archille, I am an American from New York City. I have been an Airbus A321 Captain for Vietnam Airlines since January of 2016.
I[Covid-19] "The pandemic came suddenly, so I decided to make a surprise for VNA"
Would you give us some details about your reasons for choosing Vietnam and Vietnam Airlines?
There are two main reasons I chose Vietnam and Vietnam Airlines:
#1, I have always loved the culture and people of Vietnam and Asia since I was a young boy (I had some Vietnamese friends while growing up in NYC),
and #2, Vietnam Airlines flies the Boeing 787 and my dream since I was young, was to fly a Boeing widebody aircraft. I hope to make my "Dreamliner" dreams come true at Vietnam Airlines in the future.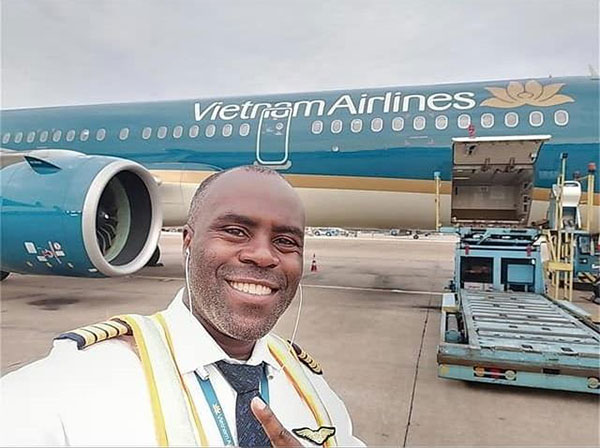 [Covid-19] "The pandemic came suddenly, so I decided to make a surprise for VNA"
Can you tell us about one of your most memorable moments while working at Vietnam Airlines?
My most memorable day of flying at Vietnam Airlines was in November 2018, during Typhoon Usagi. That day, my First Officer, Sơn and I made two approaches for landing at Tân Sơn Nhất International Airport as the storm approached the city. Because of the heavy rain and wind, we did one go-around at 1000 feet, tried another approach but had to go-around again and then diverted to Phnom Penh Cambodia. But our day wasn't over yet!
After we arrived at the gate in Phnom Penh Airport, Vietnam Airlines dispatch asked us to fly to Ho Chi Minh City again and after discussing it with my FO, purser and station manager and explaining it to our passengers, we took off again. But as we approached Tân Sơn Nhất, the weather was getting worse, so we finally decided to go back to Phnom Penh for the night.
During his time with Vietnam Airlines, Steven had many memorable memories (Photo: Steven).
Later that night, my crew and I met up at the hotel with a crew from another Vietnam Airlines flight that had also diverted to Phnom Penh. We all went out and enjoyed some delicious street food and talked and laughed about our crazy day.
The next day, we said goodbye to Phnom Penh and heard clapping from the 180 passengers on board when we landed in HCMC. The entire crew did such a great job taking care of our passengers with professional and courtesy. That day, I really was so proud to be part of the Vietnam Airlines family. My crew and I lived up to the "Vietnam Airlines Spirit"!
Recently, we have received news that you are one of the expatriate pilots to request to fly without pay for Vietnam Airlines. Would you be so kind to tell us about your reasons behind your decision?
The Coronavirus has impacted the entire world and the Vietnam Airlines family in so many ways. We all hope for the day when life as we knew it will return to normal. When Vietnam Airlines announced that pilots would be on unpaid leave for April, May and June to help cope with the Coronavirus outbreak, I decided to do my part to help the airline I love so much.
The disease caused by Corona virus has made a huge impact worldwide in general and the Vietnam Airlines family in particular, (Photo: Steven).
I opened an airline-themed restaurant in HCMC in January of 2019 and since I will be staying in HCMC during my unpaid leave to try to take care of the restaurant when we are allowed to open again, I thought to myself "why not fly"?
With the Vietnam Airlines unpaid leave, since I wasn't going to be paid anyway (a difficult but unfortunately necessary short-term step Vietnam Airlines had to make for long-term survival), I thought that it would be better to fly for no pay, as opposed to staying on the ground…for no pay.
Having a boundless love for the sky, from the beginning of 2019, Steven opened an aviation style restaurant in Ho Chi Minh City (Photo: Steven).

Since age seven, being an airline pilot has been my dream, so I wrote an email to Vietnam Airlines and asked to fly a few hours during each month of the unpaid leave, and because I really love and miss flying. The Coronavirus pandemic is unprecedented, so I decided to do something unprecedented to help Vietnam Airlines through this difficult time: fly for free!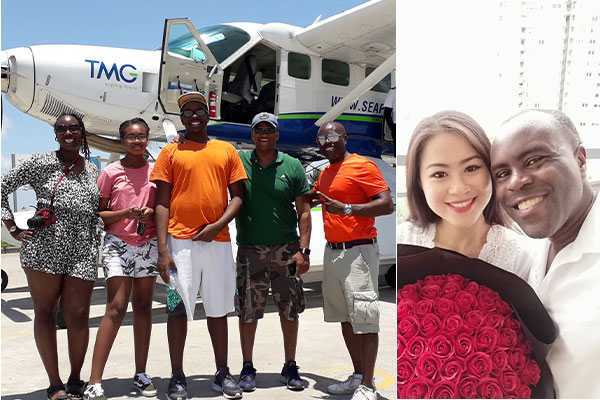 Steven's family (on the left) and his girlfriend (on the right) strongly support his decision to support Vietnam Airlines, where he has a lot of affection (Photo: Steven).

Would you also happen to know if there are any other expatriate Vietnam Airlines pilots with the same decision you made?
I don't know of anyone else who has made this decision. I only told my family in New York City and my Vietnamese girlfriend here in HCMC about it, and they are all supportive…and a little surprised!
What are your thoughts on Vietnam Airlines' Spirit these days? What are your feelings during this difficult time when everyone works together as a team to battle against the pandemic? What do you think of Vietnam Airlines' special flights to bring all fellow Vietnamese people from other countries back home?
I feel that the Vietnam Airlines spirit is stronger than ever! Vietnamese people have been through so many difficulties in their history and have always fought to succeed. Working together, all of the Vietnam Airlines family is fighting hard to beat this pandemic. The special flights that some Vietnam Airlines crew did to bring Vietnamese people back home are a perfect example of that fighting spirit. Wearing full haz-mat suits, the pilots and cabin crew were willing to put their own health at risk to bring their Vietnamese brothers and sisters back home.
I feel tha the spirit of Vietnam Airlines these days is stronger than ever. (Photo: Steven).
One of my favorite things about living in Vietnam is that people don't address each other as you, me, him or her. EVERYONE you meet here is your family; Anh, or Chị or Ông Bà, or Cô or Chú. We are all one family in Vietnam and at Vietnam Airlines and I feel so welcomed and proud to be a small part of that family. We WILL fight and we will win over this pandemic… Cố lên!
One of my favorite things about living in Vietnam is that people don't addDue to the dangerously high complexity of the pandemic, what do you think is necessary for Vietnam Airlines and other airlines right now? Do you have any personal concerns that you wish to be taken care of in the future?
The Vietnamese government and Vietnam Airlines are handling this unprecedented crisis with the seriousness, planning and urgency that this situation demands. The steps that Vietnam Airlines has taken, such as spacing out passengers for social distancing on flights and completely sanitizing every aircraft after every landing in Hanoi or HCMC, etc, are evidence that the company is taking all possible steps to protect the health of all passengers and crew. I think steps like requiring all passengers and crew to wear masks, and using disposable wet napkins instead of cloth ones will help stop the spread of the virus. I also think that all airlines worldwide should require that ALL passengers and crew have their temperature taken before and after each flight with a thermal, head thermometer.
Vietnam Airlines is doing its part, and we WILL all get through this together, fighting against it with the Vietnam Airlines Spirit! (Photo: Steven).

Beating this virus requires the cooperation of all governments, airlines and every single person on Earth. Vietnam Airlines is doing its part, and we WILL all get through this together, fighting against it with the Vietnam Airlines Spirit!
Le Xuan Loc – Pilot
Source: spirit.vietnamairlines.com