Airline shares dropped on Friday after European governments announced further travel restrictions to fight growing Covid infection rates and highly-infectious variants.
European leaders agreed on Thursday to keep their borders open but to discourage any non-essential travel. This means citizens looking to move from areas where the virus is circulating at a very high level will be asked to have a negative test and undergo quarantine upon arrival at another member state.
France has already said that from Sunday it will require citizens coming from other EU countries to have had a negative PCR test 72 hours before departure.
"We are fully convinced that we must keep borders open in order to keep the internal market functioning, but at the same time we are also convinced that restrictions should be possible to implement for non-essential travels," European Council President Charles Michel, who chairs meetings among the 27 EU leaders, said on Thursday evening.
These restrictions to travel are a challenge for the EU given its policy of free movement, where citizens, goods and services move freely from one country to the other. However, this approach has been severely hit by the pandemic, which is then reflected on how the traveling sector performs.
IAG, the owner of Iberia and British Airways, sank almost 4% on Friday. Lufthansa also dropped around 3%. Easyjet fell more than 4%.
The entire travel and leisure sector in Europe was down 2.8% during European lunchtime trading hours.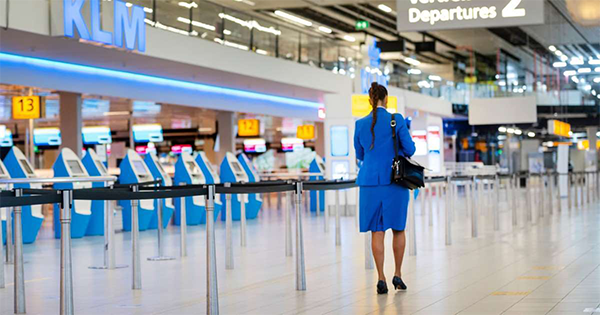 A KLM flight attendant walks in the Schiphol Airport, the Netherlands. (Photo: EVERT ELZINGA
Europe 'severely impacted'
Speaking to CNBC earlier this week, Mark Manduca, a travel and leisure analyst at Citigroup, said that any roadblocks, including test results, from the moment of leaving the house to arriving at the country of destination are a negative for the sector.
He said that the recovery in the next 12 months would be rather "uneven." As a result of the travel restrictions, Manduca expects consumers to opt for longer holidays and fewer times per year rather than frequent long-weekends away.
Some European airlines, such as AirFrance and Lufthansa have received government subsidies to cope with the hit from the pandemic. However, there are questions about whether more support will be required in the coming months.
Lufthansa's CEO Carsten Spohr said on Thursday that the company is currently losing 1 million euros ($1.2 million) every two hours. However, this is actually a "significant improvement," he said, as the airline at one point in 2020 was losing the same amount of money every hour.
Earlier this month, the International Air Transport Association (IATA) said air passenger numbers stalled at the end of 2020.
Passenger traffic growth dropped by 70.3% year-on-year in November, the IATA said, with Europe being "the most severely impacted region due to strict containment measures."
Vaccination passports
European leaders have started debating whether vaccination certificates should be used to promote traveling in the coming months.
The idea, pushed by Greece and other tourism-heavy nations, would allow those that have been vaccinated to travel anywhere in the EU.
However, the 27 heads of state decided on Thursday to take a decision on so-called vaccination passports at a later date.
"Rather than easing travel restrictions, the vaccination passport would simply create new borders across people and countries," Alberto Alemanno, professor of EU law at H.E.C. business school, said via email.
"Given the highly differentiated roll-out of the vaccination campaigns across Member States, certain nationals are more likely to be vaccinated than others, as they are certain categories and age groups over others," he added.
Cre: CNBC
Nguyen Xuan Nghia – COMM