Can being cabin crew be risky business?
With so many recent events in the airline industry, as well as political unrest, war, and deadly diseases, you would almost be forgiven for thinking that taking a cabin crew job is quite risky. Many cabin crew travel long-haul routes worldwide and up until recently felt safe in our friendly skies, but times are changing. Is it still safe to fly as a flight attendant? Primarily, the answer is yes, but you do need to be aware of the hazards as well as putting them in perspective.
5/5 Sickness
This is one of the biggest problems for cabin crew as they have to be relatively fit to do the job. They are vulnerable to colds and flu, especially when fatigued. Over the years, the links between cosmic radiation and the risk of getting cancer have always been there, and that's a chance cabin crew have to take, although it is probably no more a risk than most jobs.
Cabin crew take precautionary measures in certain areas of the world to avoid malaria (cover up and use repellant) and things like stomach bugs (drink bottled water, don't have ice or anything that may have been washed in unsanitary water). Every few years, there seems to be a worldwide epidemic of some sort – not to mention the pandemic and COVID-19. Mostly these epidemics are not contractible as easily as first thought, and you would have to be in very close contact with someone with the disease to catch it yourself.
Of course, cabin crew have to take vaccinations for many diseases as mandated by their airline, and aviation and travel health are discussed during training. The airline will also advise the cabin crew going to any 'risky' destination of the protocol to be followed and what measures may need to be taken.
It is still safe to fly, but with a need for precaution. Photo: Air Baltic
4/5 Accidents
Accidents and unfortunate events have been major headlines in the last ten years, but it is still extremely safe to fly. in fact, that you are more likely to get kicked to death by a donkey than be involved in such an accident. Cabin crew are highly trained to do everything possible in an emergency situation and have as many survivors as possible. Some events have been unthinkable and uncontrollable but are thankfully incredibly rare, one in billions. Remember that the most dangerous part of your journey is the drive to and from the airport.
3/5 Political unrest and war zones
Most airlines will detract or postpone a route from their network if there is a perceived safety threat. If the situation is volatile in a city but it is safe to travel there, the airline will advise the crew of the precautions to take – avoid this area. For instance, do not go out alone. If there has been a recent event that could endanger a crew at the airport or hotel, either the crew will fly straight back after turnaround, or the route will be canceled completely. With so many areas of unrest at the moment, many airlines are choosing to re-route away from some countries' airspace entirely, which negates the potential threat of flying over areas of conflict.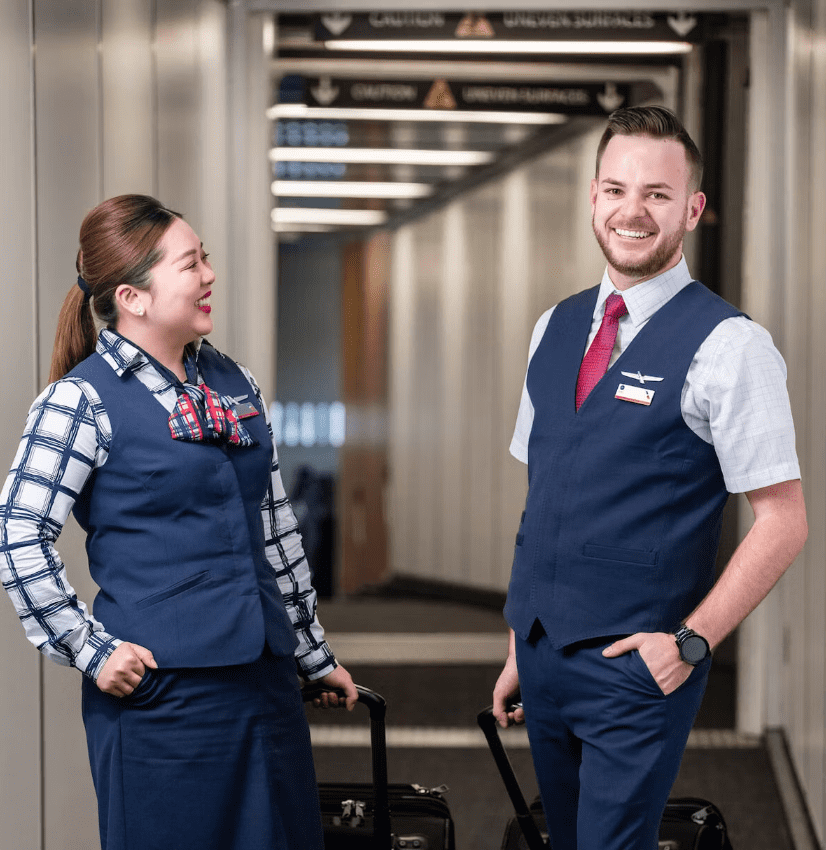 Staying safe down-route is very important for cabin crew. Photo: American Airlines
2/5 Down-route safety
Cabin crew have to be very streetwise when down-route, especially in a new city or one with any risk. It is important to be aware of personal safety in some cities and get used to certain behaviors, and know how to react to unusual situations. Things like local scams to be aware of (taxis, pickpockets, etc.) and situations to avoid become well known to the most crew, so it is important to make wise choices. Unfortunately, cabin crew are very visible, and locals often know what time they get to a hotel, places they go, and when they leave as they have a very visible presence (uniform) and a particular routine (a group of people, different cultures and sexes, similar age range going out at the same time). This can make cabin crew unfortunate 'targets', so it is important to be very self-aware.
1/5 Job stability
Job stability in the aviation industry used to be a sure thing prior to the pandemic. Unfortunately, if cabin crew are made redundant from a new or underperforming airline, it is unlikely that they will be covered in any way, so they need to be prepared for a change of career or have back up funds if there may be difficult times ahead. Wages for cabin crew are at an all-time low, and some crew are having to take on second jobs to make ends meet. Contracts are also more likely to be short-term and limited.